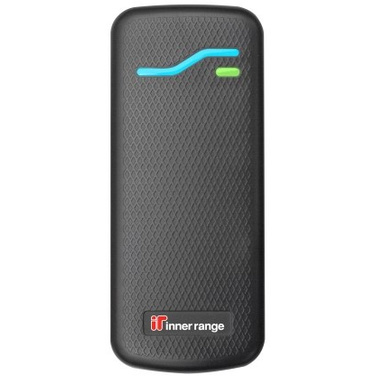 Inner Range SIFER Smart Card Reader
Web ID: 238
The SIFER card reader is a Smart Card reader designed and manufactured by Inner Range. It is a multi-drop RS-485 based reader that employs 128 bit AES encryption from the card through to the door module, providing a far superior level of security than that of traditional Wiegand based card readers. SIFER readers utilise the Mifare DESfire EV1 card format.
Manufacturer PN: IR-994720
Warranty: 2 Year
Manufacturer Website
This product cannot be purchased online. Please call for pricing.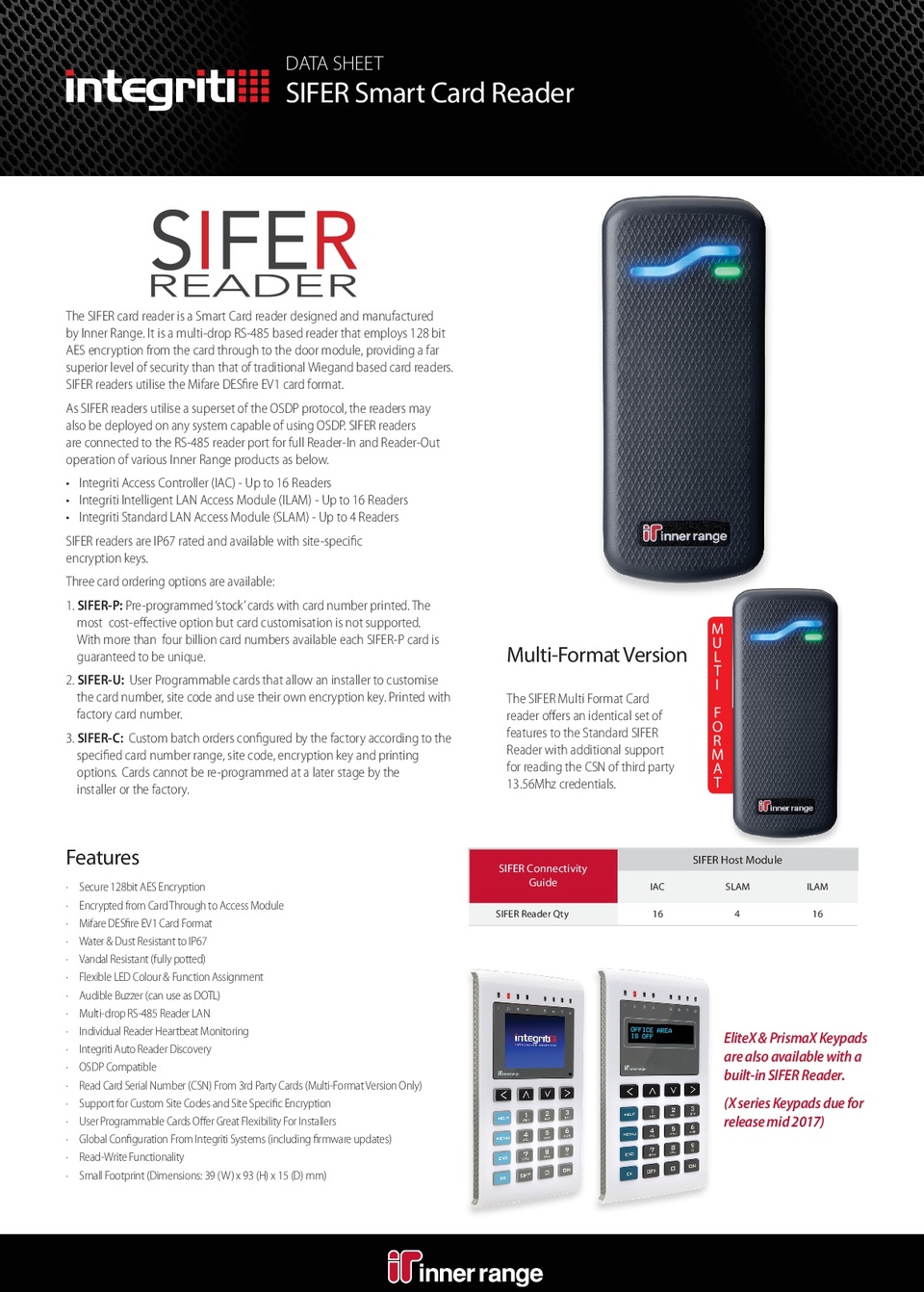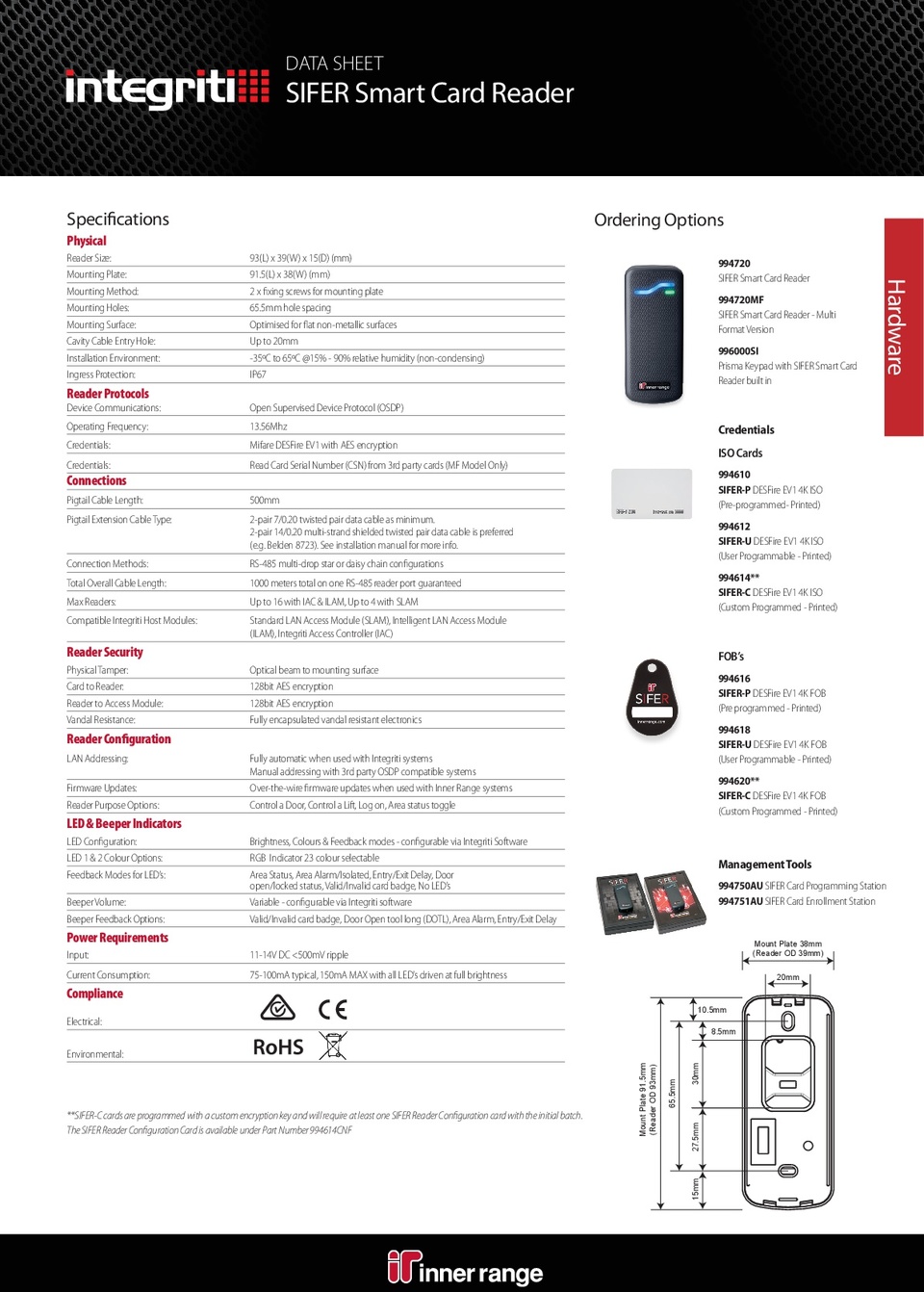 Specifications Physical Reader Size: 93(L) x 39(W) x 15(D) (mm)
Mounting Plate: 91.5(L) x 38(W) (mm)
Mounting Method: 2 x fixing screws for mounting plate
Mounting Holes: 65.5mm hole spacing
Mounting Surface: Optimised for flat non-metallic surfaces
Cavity Cable Entry Hole: Up to 20mm Installation
Environment: -35ºC to 65ºC @15% - 90% relative humidity (non-condensing)
Ingress Protection: IP67
Reader Protocols Device Communications: Open Supervised Device Protocol (OSDP)
Operating Frequency: 13.56Mhz
Credentials: Mifare DESFire EV1 with AES encryption
Credentials: Read Card Serial Number (CSN) from 3rd party cards (MF Model Only)
Connections Pigtail Cable Length: 500mm
Pigtail Extension Cable Type: 2-pair 7/0.20 twisted pair data cable as minimum. 2-pair 14/0.20 multi-strand shielded twisted pair data cable is preferred (e.g. Belden 8723).
See installation manual for more info.
Connection Methods: RS-485 multi-drop star or daisy chain configurations
Total Overall Cable Length: 1000 meters total on one RS-485 reader port guaranteed
Max Readers: Up to 16 with IAC & ILAM, Up to 4 with SLAM
Compatible Integriti Host Modules: Standard LAN Access Module (SLAM), Intelligent LAN Access Module (ILAM), Integriti Access Controller (IAC) Reader Security Physical Tamper: Optical beam to mounting surface
Card to Reader: 128bit AES encryption Reader to Access Module: 128bit AES encryption
Vandal Resistance: Fully encapsulated vandal resistant electronics
Reader Configuration LAN Addressing: Fully automatic when used with Integriti systems
Manual addressing with 3rd party OSDP compatible systems
Firmware Updates: Over-the-wire firmware updates when used with Inner Range systems
Reader Purpose Options: Control a Door, Control a Lift, Log on, Area status toggle LED & Beeper Indicators
LED Configuration: Brightness, Colours & Feedback modes - configurable via Integriti Software
LED 1 & 2 Colour Options: RGB Indicator 23 colour selectable
Feedback Modes for LED's: Area Status, Area Alarm/Isolated, Entry/Exit Delay, Door open/locked status, Valid/Invalid card badge, No LED's
Beeper Volume: Variable - configurable via Integriti software
Beeper Feedback Options: Valid/Invalid card badge, Door Open tool long (DOTL), Area Alarm, Entry/Exit Delay
Power Requirements Input: 11-14V DC <500mV ripple
Current Consumption: 75-100mA typical, 150mA MAX with all LED's driven at full brightness