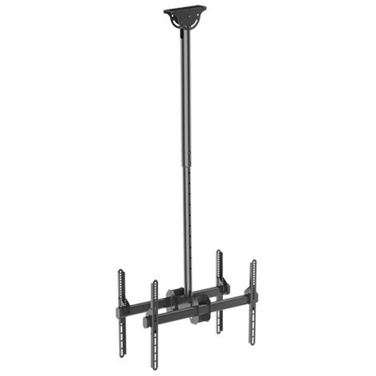 Brateck Back-to-Back Flat Panel Ceiling Mount from 32" 55"
Web ID: 424
Securely ceiling-mount twin screens back-to-back. Fits 32" up to 70" screens. Ideal for shopping centres, in-store displays, transport hubs, etc. Cables route internally to maintain professional presentation
Manufacturer PN: BT-PLB-CE946-01LD
Warranty: 1 Year
The Brateck PLB-CE944-01LD is a flexible ceiling mount designed to provide extra possibilities by allowing two screens to be placed back-to-back.
With a tilting ceiling plate for flat or sloping ceiling applications, it allows displays to tilt and swivel around the pole without tools. Universal mounting pattern fits virtually any 32" – 55" flat panel TVs. Each mount holds up to 45kg.
Features adjustable height for perfect TV positioning and a wire management channel to keep cables concealed and organised.
Telescoping height adjustment for the optimal viewing height
Ceiling plate can be adjusted for use with flat or sloping ceiling
Freely tilt down and swivel controls provide maximum visibility
Preset leveling adjustments ensures perfect positioning after hanging
Internal cable management conceals unsightly cables for a clean look
Specification: TV ceiling mount
By Function: Tilting
By Mounting Pattern: Universal
Material: Steel
Surface Finish: Powder coating
Available Color: Black
Product Size: 480X435X1778mm
Recommended Screen Size: 32"-55"
Installation: Ceiling
Rated Weight Capacity: 45X2kgs/99X2lbs
Strength tested: 3 times approved
Max.Hole Pattern: 405x405mm
VESA Standard: 200x200, 400x200, 300x300, 400x400,
Tilt: +5°~-20°
Swivel: -180°~+180°
Level Adjustment: -3°~+3°
Rotating: No
Profile: 1060-1560mm
Bubble Level: No
Anti-theft: No
Cable Management: Yes
Wall separated: No
Panel separated: Yes
Freely Positioned: Yes
Motorised: No