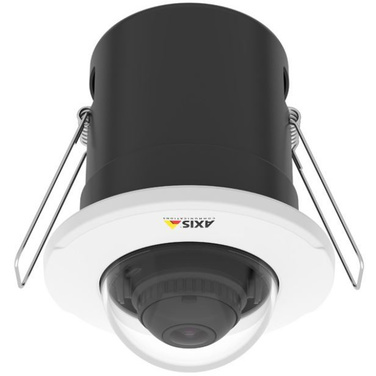 AXIS M3016 3MP Recessed Mini Dome Camera With 1.8mm Lens
Web ID: 514
Designed for quick and easy recessed installation, AXIS M3016 Network Camera is a discreet dome that only protrudes 36 mm (1 7/16 in) from the ceiling/wall. Its 3-axis camera angle adjustment allows for leveling and directing in any direction. The cover ring is optionally available in black and is easily repainted in any color to blend in with the environment. AXIS M3016 provides 3 MP video with wide horizontal and vertical field of view. WDR ensures visible details in dark as well as bright areas of a scene. Axis Zipstream technology reduces bandwidth and storage with maintained video quality
Manufacturer PN: M3016
Warranty: 3 Year
Manufacturer Website
This product cannot be purchased online. Please call for pricing.
Best-in-class quality
You would have to look far and wide to find better video quality and more great features in a camera in this class. Axis M3016 offers 3 MP video at 30fps in maximum resolution, for example. And Axis WDR for excellent image quality when there are big differences between the lightest and the darkest spot in a scene. It also gives you large area coverage and a wide field of view, both horizontally and vertically.
Big on features. Small on price
AXIS M3015 comes with the advanced Axis Zipstream technology that keeps storage and bandwidth requirements low and video quality high. The Axis Corridor Format option allows for optimal coverage of isles and corridors. AXIS M3016 is also equipped with a memory slot for optional local video storage. And it's designed for exceedingly fast, easy and cost-effective installation and integration.
Designed for discretion
AXIS M3016 is seriously discreet. Specially designed for recessed mounting, this small, unobtrusive camera resembles a spotlight. Its cover is optionally available in black and is also easy to repaint to blend in anywhere.
AXIS M3016 Network Camera is designed for quick and easy recessed installation. Delivering 3 MP video at full frame rate in a small and compact design, AXIS M3016 is perfect for stylish retail stores and other areas that require discreet surveillance.